Executive Search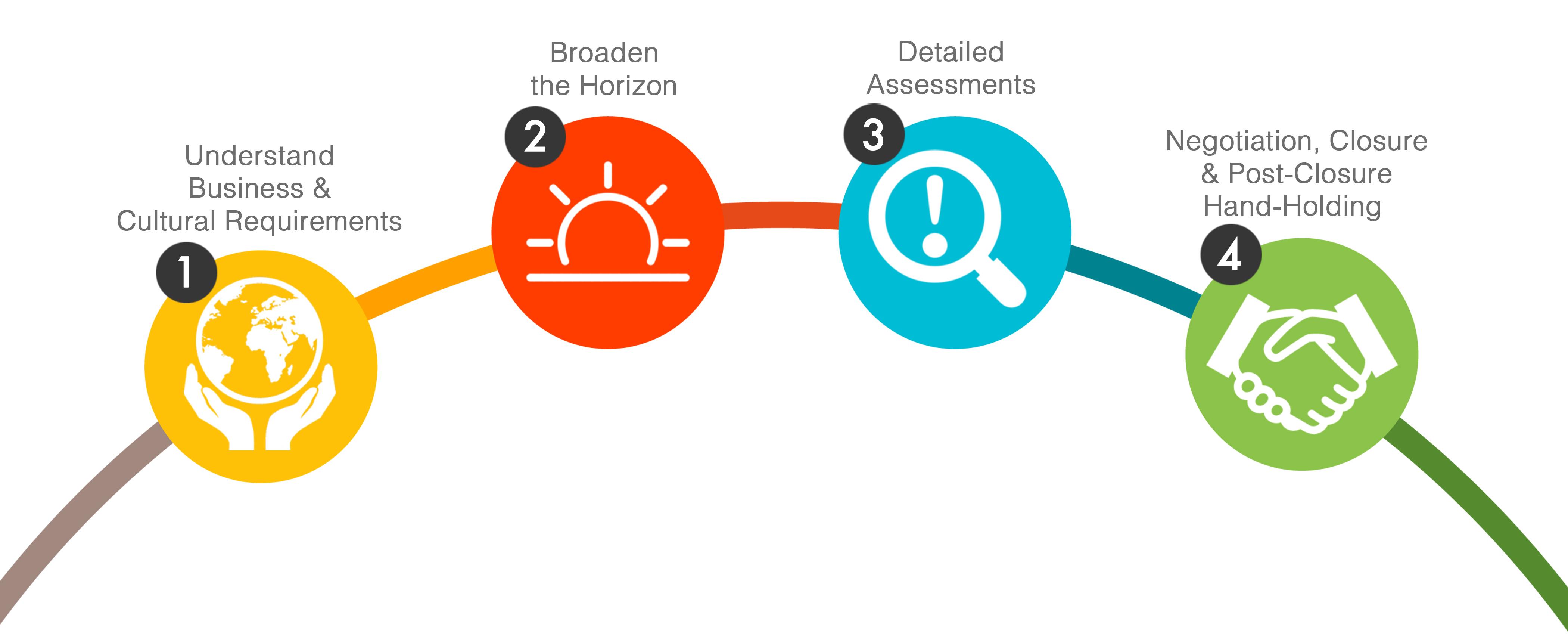 Our Approach
Understand business & cultural requirements
Our lead consultant spends a significant amount of time with key client management people in understanding role requirements. A multi-dimensional framework is used, which involves critically analysingthe business space and role definition. The factors considered are core business proposition and challenges, competitive threats and emerging opportunities, organisation culture and the business roadmap. Besides, the role definition is outlined looking at short-term and long-term objectives, internal and external relationships, identification of core and preferred skill sets and key functional requirements.
Broaden the horizon
We bring our corporate experience and knowledge of working across multiple industries to further refine the client's perspective and expectations from the role and business outcomes. Using our broad network and research capabilities we extensively explore the right candidate profile, with ability of sourcing international candidates wherever mandated.
Detailed assessments
Prior to recommending any candidature, we ensure that we find a thorough fitment to skill sets, role objectives and cultural aspects. This is done through one-on-one sessions, which cover subjects from technical to behavioral. We assess decision making, leadership style, inter-personal behaviour, ability to visualise future, global outlook, clarity of thought and communication, and responsiveness to change. Each candidate proposed is also validated by not only an assessment of past career track, but validation from peers and ex-colleagues.
Negotiation, closure & post-closure hand-holding
Our entire approach is riveted on working very closely with the clients and candidates to bring around the perfect harmony in expectations and outcomes.
We do the hard negotiations on our client's behalf till closure. Post the closure, we can engage the candidate on executive coaching to help the professional settle down and prioritise work goals.
---
Our Advantage
Our clients benefit through engaging ProEdge as their talent acquisition partner in multiple ways. Our principal consultants bring strong domain expertise in different industry domains besides an extensive network of professionals globally. We emphasise on valuing cultural fitment besides undertaking a process driven approach to every engagement.
Success leads to partnership
We build a deep understanding of our clients' business, culture, and aspirations. Clients benefit from this association as we help them get the right skills across the board.
Using innovation to discover value
Moving beyond database searches, we actively search our candidates through headhunting and research companies, industries & geographies that relate to the mandate, increasing many folds the ambit of our search and quality of the candidates. Besides, we have evolved proven assessment frameworks to increase the efficiency of our research efforts, and personal interactions.
---
Our Clients
Our client list includes well-funded high potential startups, large scale development firms, asset management companies, consulting organisations, private equity institutions, VC funds, investment banks and other financial institutions.
Till date, we have worked across Real Estate, Healthcare, Life Sciences, Financial Services, Investments, Retail, E-commerce, IT & Supply Chain industries, and seek to explore other frontiers.
---
Our engagement model
We are a retained firm but with our upside linked to the successful closure of the assignment. ProEdge also undertakes a continuous engagement model where we provide executive search, talent advisory and mentoring services. For more information please reach out to us.
What clients say about us
"Lynx Analytics engaged with ProEdge on a critical assignment which spanned geographies. Despite ProEdge being new to the Singapore market, they impressed us with a very focussed and thorough research, resulting in very high quality candidates. The team was always responsive and we ended up closing the position very promptly. Delighted with the experience and would definitely recommend them further"

Andras Nemeth
CTO, Lynx Analytics
"ProEdge brought a distinctive understanding of the real estate business and was thorough with their process. Delivering selective but high quality candidates, making our engagement with the team a pleasurable experience. We ended up having a highly desirable candidate in a very short time"

Jogy Thomas
CEO, ATS Infrastructure
"DMI Finance is a leading diversified Indian financial services company. We have worked with Amit and his team at ProEdge and have found them quick to understand our needs and thorough and professional in delivering us the team we have needed. We would recommend them without hesitation."

Anmol Nayyar
Executive Director, DMI Finance
"We have loved the services provided by the Mentorati program. The team notably brought in phenomenal network in our sector of interest, i.e. Real Estate, from Developers to Fund Managers, and also invested time to understand our specific requirements too. We hope other startups benefit from the Mentorati program. Excellent job done and best of luck to you."

Aaditya Jain
Co-Founder, Plabro Networks